Datascape Podcast - February Cloud Updates
"Welcome to this year's first episode of Datascape Podcast. Since our last episode in 2019, a great deal has happened and 2020 is already packed to the brim with cloud updates.
Joining us to talk about Amazon Web Service (AWS) is Pierig Le Saux. He shares the latest on AWS Backup, which includes restoring single files and copying backups from one region to another, BYOL developments and their use for Microsoft clients, and some thrilling quantum computing initiatives as well. Pierig also sheds light on automated image building as well as his excellent productivity tip for the month.
We also have Warner Chaves with us, here to share his Microsoft Azure insights. He covers the latest developments from Azure Backup Explorer, which aggregates all the information you have access to in the backup vault into a single dashboard. Warner also touches on the end of Windows 2008 and alternatives, Microsoft's Sustainability Calculator and where it's likely to go, and some Azure Accessibility updates.
Last but not least, Stéphane Fréchette, is back to give us the latest in the Google Cloud Platform (GCP) space. He dives into Archive, GCP's latest storage class, new maintenance controls for Cloud SQL, and GKE support for legacy applications. He also touches on Secret Manager and the various secrecy functions it entails."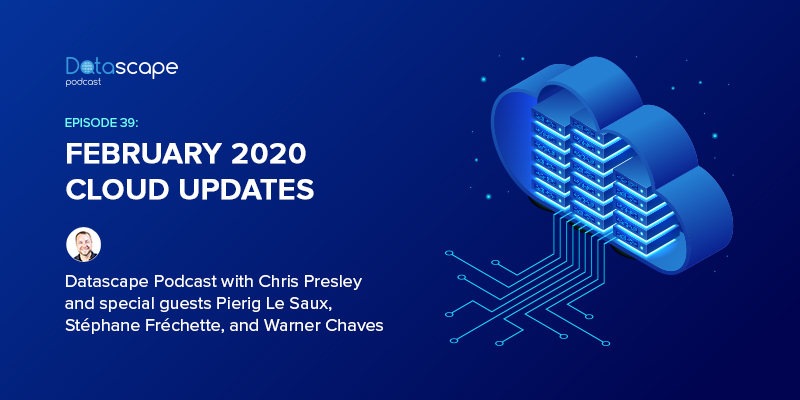 Link to episode: Episode 39 - February 2020 Cloud Updates
Enjoy!